Mrs. TEH previously had
a guest post
about the site known as Freecycle. Today I want to give Freecycle another plug with this message from Tracy, one of the moderators of the Sangamon County Freecycle site.
Imagine living in a community where used items that are in good condition are given away freely, no strings attached, no money exchanged. Imagine living in a community where people not only recycle, but reuse, by giving away their unwanted items freely to others - even strangers - who will give them new life. Sound too good to be true? That community exists, right here in Springfield, Illinois.
The Springfield Freecycle Network is an Internet community of local people who are giving (and getting) good stuff for free right in their hometown. The goal is to keep useable items out of the landfills, keep curbs and alleyways clean and save our prairie grasslands from being overtaken by landfills that no one wants in their own backyard. Anyone with access to a computer can log on to
www.freecycle.org
, click on the region where they live, scroll to their state, and click on a link to their local community Freecycle site. There are currently more than 2900 Freecycle sites worldwide, with 157 in Illinois alone.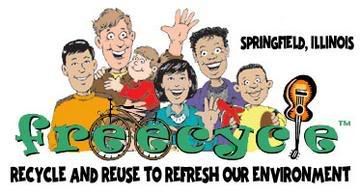 The Springfield site started in January, 2004, and now has more than 1700 members. The site is moderated by two local volunteers who try to build community involvement and make the site fun and productive. The address is:
http://groups.yahoo.com/group/freecyclespfldil/
.
Everything must be FREE, legal, and appropriate for all ages. There is no bartering, trading, swapping or selling allowed. Membership is free, and members are required to provide the ZIP code(s) where they live and work in order to attain membership. Although "wanted" posts are allowed, everyone must make an offer first before asking for something. In May, 2005 alone, more than 300 different types of items were offered and given away for FREE on the Springfield Freecycle Network. From A-Z, we have everything and the kitchen sink!
Reduce, reuse, recycle ... and
Freecycle
! ... pass it on.
-Tracy